Every year, the Society for Vascular Surgery (SVS) hosts an annual meeting for Vascular Specialists involved in the organization.  There are a variety of informative presentations to discuss new technology, techniques, and research regarding vascular surgery; as well as workshops and networking events.
This year, the event was held near Washington, D.C., earlier in June.  Our own Dr. Daniel McDevitt had the opportunity to present
on the topic of "Outpatient Dialysis Access Centers".  Dr. McDevitt enjoys attending these events to stay current with the latest innovations in the field, and meet with other vascular specialists around the world.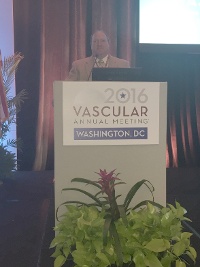 Dr. Marat Goldenberg was also in attendance at this event.  He says, "It's always nice to meet with other physicians in my field to share ideas and solutions.  We all have different perspectives and experiences so it's helpful to hear from other leaders in the field."
Next year's event will be held May 31-June 3, 2017 in San Diego, California; and we're looking forward to attending then!